The Roman mosaic from Lod, Israel was discovered in 1996 during highway construction in Lod (formerly Lydda). A rescue excavation was immediately conducted by the Israel Antiquities Authority, revealing a series of mosaic floors measuring approximately 50 feet long by 27 feet wide.
Introductory video courtesy of The Metropolitan Museum of Art, New York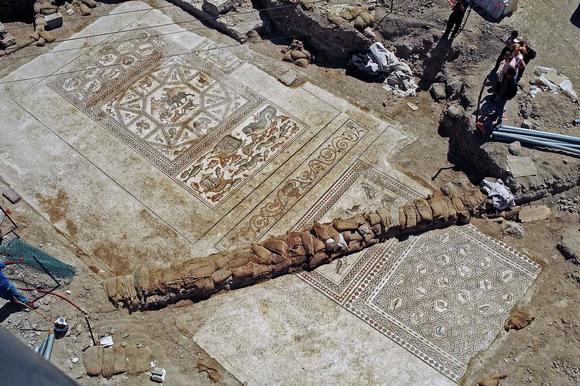 To preserve them until funding was secured for their full scientific excavation and conservation the mosaics were then reburied. Removed from the ground in September 2009, the large central square panel and two adjacent rectangular panels were exhibited to the general public for the first time at The Metropolitan Museum of Art from September 28, 2010 in an exhibition documenting the discovery and the history of the mosaic's removal, conservation, and eventual journey to the United States.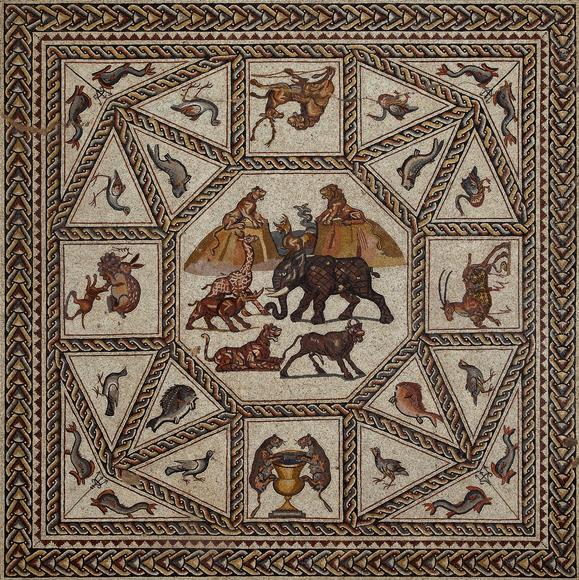 Of exceptional quality and in an excellent state of conservation, the Lod mosaic is believed to belong to a large and well-appointed Roman house and is dated to about A.D. 300. The central square panel was found in what was probably a large audience room. Within an area measuring 13 feet square is a series of smaller squares and triangles depicting various birds, fish, and animals that surround a larger octagonal scene with ferocious wild animals—a lion and lioness, an elephant, a giraffe, a rhinoceros, a tiger, and a wild bull. Such animals were well known to the Romans since they appeared at gladiatorial games, where they were pitted either against each other or against human adversaries. Flanking the central panel to the north and south are two smaller, rectangular end panels. The north panel explores the same theme as the main panel with various creatures; the south panel is devoted to a single marine scene, complete with two Roman merchant ships. A striking feature of all the mosaics is that none of them contains any human figures. Because the mosaic's imagery has no overt religious content, experts cannot determine whether the owner was a pagan, a Jew, or a Christian.
You can view the mosaic in detail here.
Following its presentation at The Metropolitan Museum of Art, the exhibition will be on display at the Legion of Honor Museum in San Francisco, the Field Museum in Chicago, the Columbus Ohio Museum of Art, the University of Pennsylvania Museum, the Louvre Museum in Paris, the Altes Museum in Berlin and Waddesdon Manor, England.