Treatment of the footprints
Consolidation of the footprints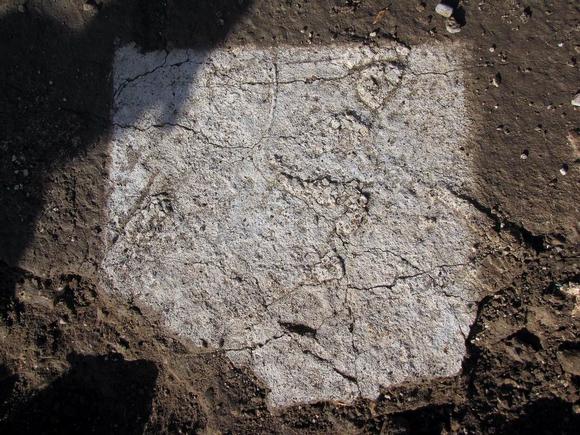 1. Pre consolidation:
Consolidation with Cyclododecane in white spirit (40 g/l)
2. Consolidation before lifting:
Consolidation with Paraloid B-72 (60g/l in acetone)
Facing with two layers of gauze and Paraloid B -72 (150g/l in acetone)
Lifting of the footprints
Areas with footprints were divided into small areas for ease in cutting and handling. The surface of the divided fragments was covered with layer of gypsum (over the facing) in order to protect the footprints from mechanical damage during the lifting. The fragments were detached from the statumen without any damage and transported to the laboratories in Jerusalem.
Treatment of the footprints for exhibition
Fabrication of new supports: Every fragment will be positioned on Aerolam panel and fixed with lime mortar on it. All the panels will assembled in the future to recreate the entire layer of mortar with the group of footprints
Cleaning of the facing and the protective gypsum layer: the gypsum will be cleaned mechanically; the facing using acetone and small brushes.
Molding: for the purposes of documentation and research a flexible mold from every footprint will be produced (RTV silicon will be used for this purpose).
Presentation: one of the panels with a single footprint will be used to recreate the mosaic stratigrapy - all the layers will be visible on display together with the footprint. The work will be executed using the original materials from the mosaic.
Conservation: 1 | 2 | 3 | 4 | 5 | 6 | 7 | 8 | 9 | 10 | 11 | Next page